ALANDS opal white milky white cast acrylic sheet
Brand : ALANDS
Product origin : China, Shandong
Delivery time : 10-15DAYS
Supply capacity : 500 Ton/Tons per Month
Jinan Alands Plastic Co., Ltd is specializing in researching, manufacturing and selling plastic products over 15 years in China.
1 Thickness: 1.8mm-50mm
2 Color: all colors are available
3 High quality and good price
4 Size: different size is available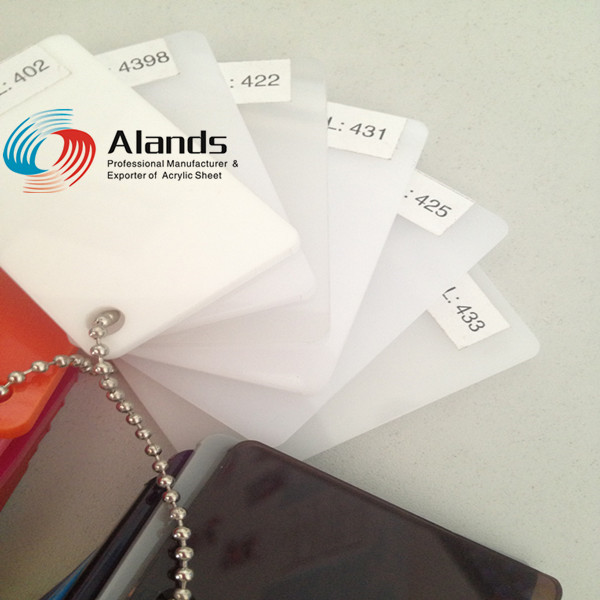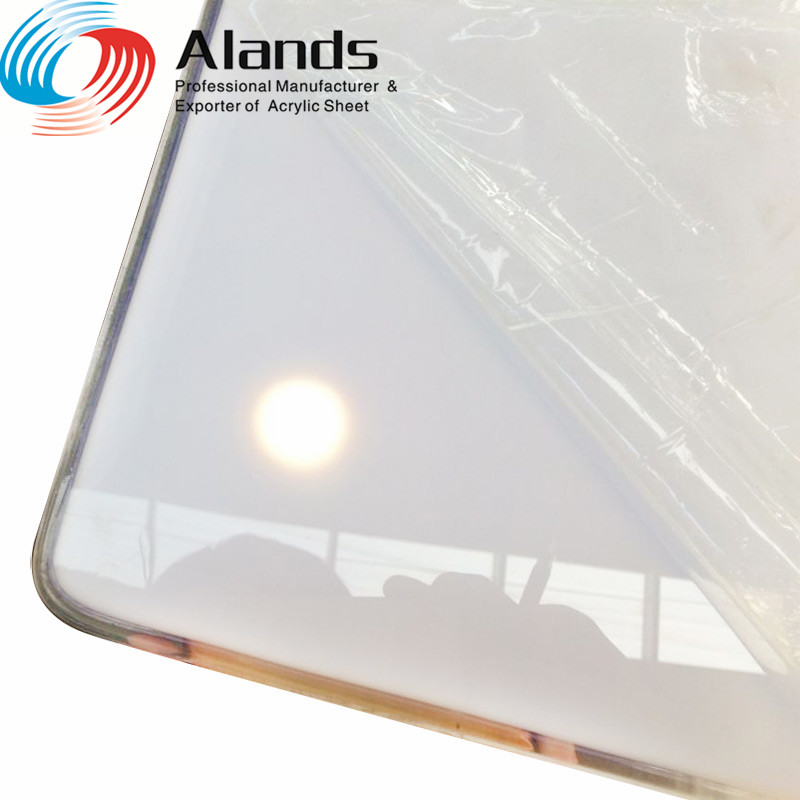 Feature of acrylic sheet:
Perfect transparency and the light transmittance with 95%
Excellent electrical insulation, very light in weight
High plasticity, Processing and shaping easier
Strong surface hardness and good weather resisting property
Beautiful in color, easy to clean
Applications:

Construction: show window, doors, light-absorpting shade, telephone booth, partition board in office and house.
Advertisement: lamphouse,signboard,indicator,display rack.
Transportation: door and window of car and train or others.
Medical: infant incubator, many kinds of medical apparatus.
Civilian goods: bath room, art work, cosmetics, bracket, desk, chair, kitchen,the aquarium and sanitary application.
Industrial: instruments and insulation material meters and protecting cover, photics and other industry.
Lighting: daylight lamp, ceiling lamp, lamp-chimney,Light diffusion.
Product design:engraving, making gift items,stationery rack, mining mask.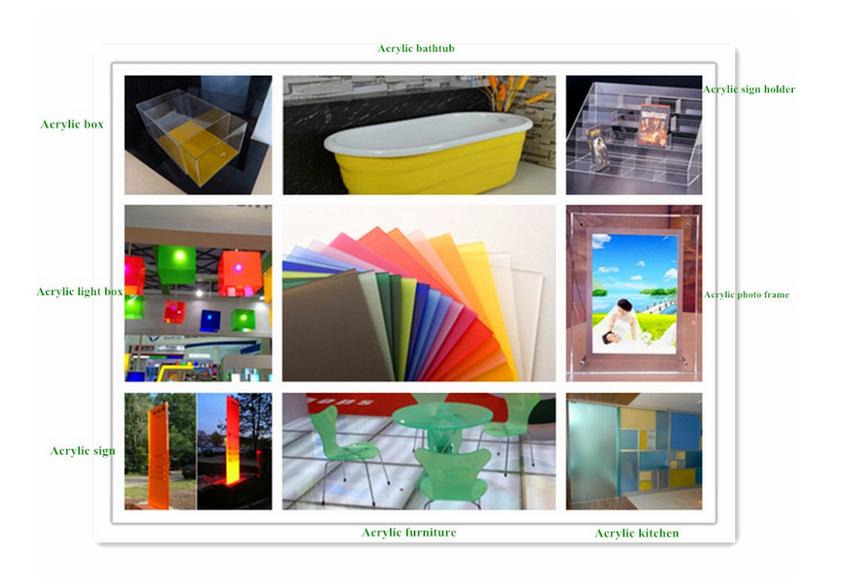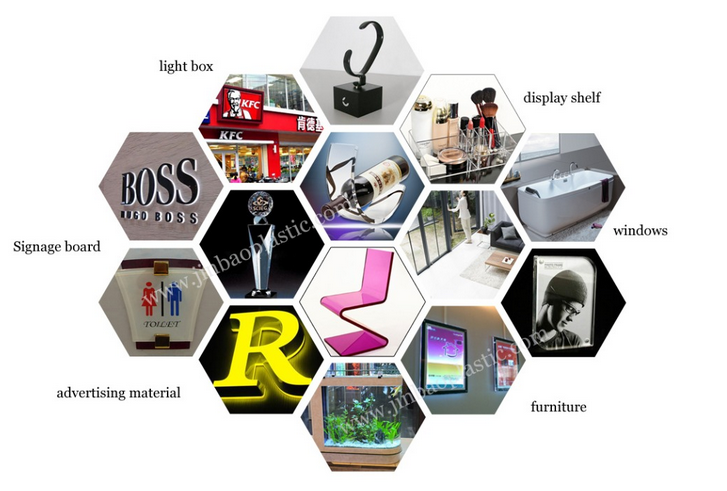 Acrylic Average Physical Properties
| | |
| --- | --- |
| Specific gravity | 1.19-1.20 |
| Hardness | M-100 |
| Absorptivity of water (24h) | 0.30% |
| Tension | |
| Coefficient of Rupture | 700kg/cm2 |
| Coefficient of Elasticity | 28000kg/cm2 |
| Bending | |
| Coefficient of Rupture | 1.5kg/cm2 |
| Coefficient of Elasticity | 28000kg/cm2 |
| Transmittance (parallel rays) | 92% |
| Full rays | 93% |
| Heat Distortion Temperature | 100oc |
| Coefficient of Linear Expansion | |
| Ultimate Temperature of Continuous operation | 80oc |
| Thermoforming Ranges | 140-180oc |
| Insulation Strength | 20V/mm |
Notes:
1. acrylic sheet is likely to expand when the temperature is over 100°C, so the continuous temperature don't exceed 90°C.
2.Space between acrylic sheets should be left out when construction, regarding the weight, load and temperature.
3.The surface hardness of acrylic sheet is as hard as aluminum alloy; Polish it with the abrasive material for aluminum when it is scratched in abnormal condition.
4. Acrylic sheet can cause static; clean the surface with mull dipping 1% suds.
5. Keep the warehouse dry and well-ventilated, and from fire.
6. Use elastic material such as rubber when processing base material.
Please feel free to give your inquiry in the form below.